Unlike a math museum, a pizzeria teaches youngsters about fractions without kicking them out for eating the exhibits. Absorb educational taste with this Groupon.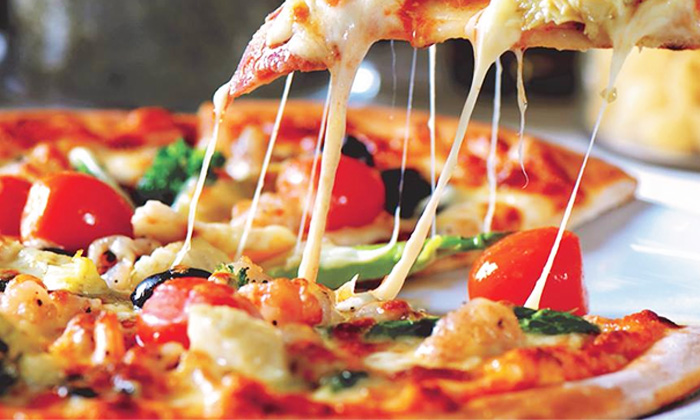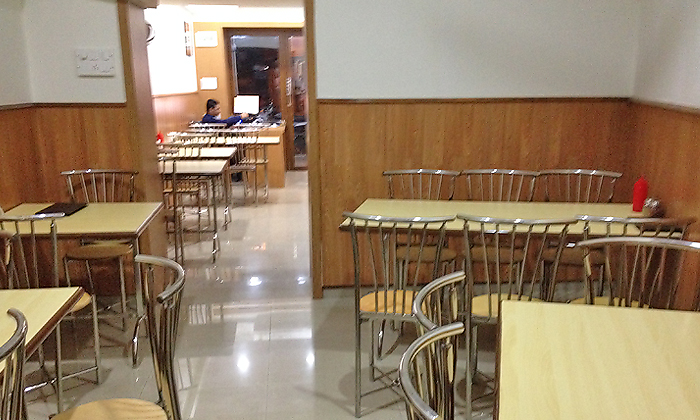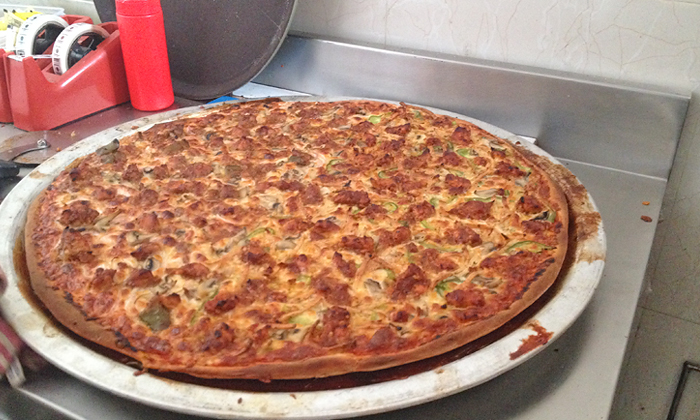 Garlic Bread:
Traditional Garlic Bread (4 slices of bread toasted with garlic butter)
Garlic Bread with Cheese (4 slices of bread toasted with garlic butter)
Chili Cheese Toast (4 slices of bread topped with a mix of cheese, green chilies & chili flakes)
Corn & Jalapeno Garlic Bread (spicy jalapenos & juicy corn kernels with garlic butter & cheese)
Salads:
Capsicum with Salad Vegetables in Mayonnaise
Roast Chicken with Pineapple, Capsicum & Salad Vegetables in Mayonnaise
Veg:
V1:
Plain Cheese (tomato sauce with cheese)
Margherita (basil & tomato slices)
V2:
Ultimate Vegetarian (onion, capsicum & mushroom)
Spicy Veg (onion & red paprika in a spicy sauce)
V3:
Woodcutters (spinach, onion, mushroom & basil)
Vegetariana (garlic, American corn, capsicum, tomatoes & oregano)
Crispy 'N' Lite (chopped onion, capsicum, tomato & green chilies mixed with cheese on a thin & crispy base)
Non-Veg:
NV1:
Roast Chicken (cheese & roast chicken)
Spicy Salami (chicken salami & red paprika)
Hot Chicken (cheese & hot chicken)
NV2:
Tuna Feast (tuna fish, onion & spring onion)
Meat Feast (chicken sausage, chicken salami & chicken loaf)
Chicken Tikka (chicken tikka & coriander)
Butter Chicken (chicken cooked in makhani sauce with coriander)
Sweet 'N' Spicy Chicken (cubes of chicken cooked with red bell peppers in a sweet chili sauce)
Fiery Chicken (chicken in a creamy spicy, marinade & jalapenos)
Chili Chicken (chicken, spring onion & green chilies cooked in Chinese style with sesame seeds)
Schezwan Chicken (chicken cooked in a hot schezwan sauce with spring onion)
Black Pepper Chicken (chicken & capsicum cooked in a black pepper sauce)
Groupon Partner: Smokin' Joes
Smokin' Joes is a popular pizzeria from Texas. It was started by a Mexican Cowboy, Jose Mancini who set up shop in tribute to his wife, from who he was separated during the Great Floods. He was known for his fresh smokin pizzas and that is how 'Smoking Joes' was born.  
Smokin Joes is located on Dr. Mascarenhas Road in Mazgaon. They serve delicious pizza's and other Italian treats. 
Unfortunately the following deal is no longer available
but do not worry, there are more discounts for you
---