Looking for the perfect all-you-can-eat buffet deal? Then look no further! Avail this Groupon to enjoy some great food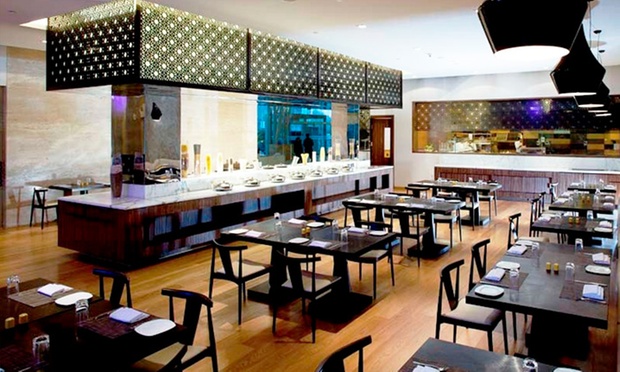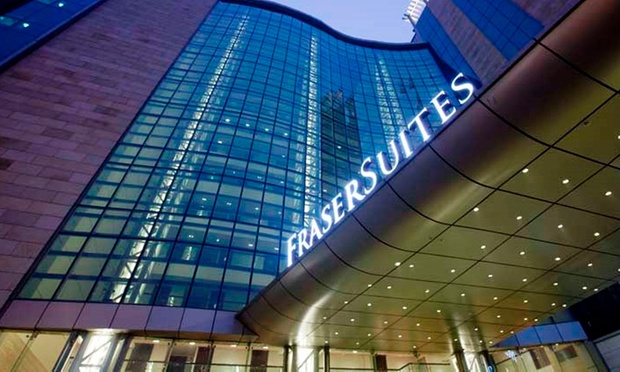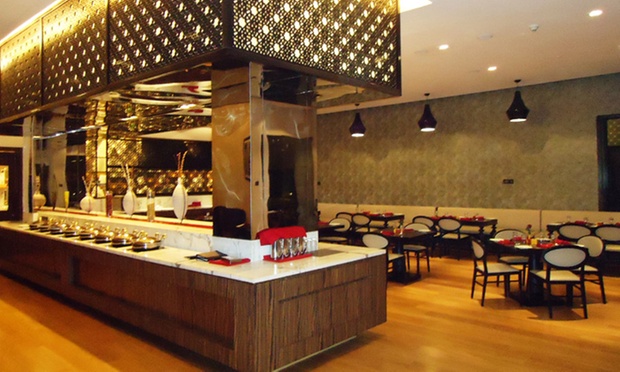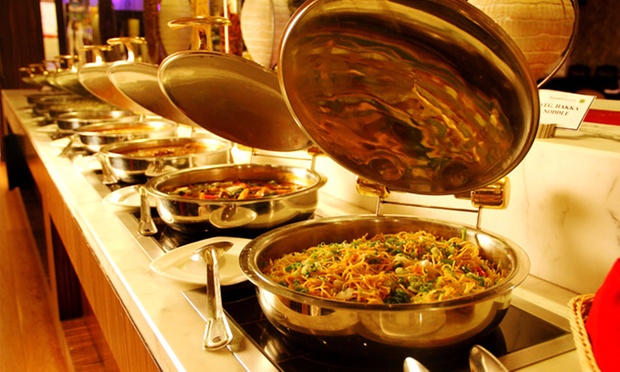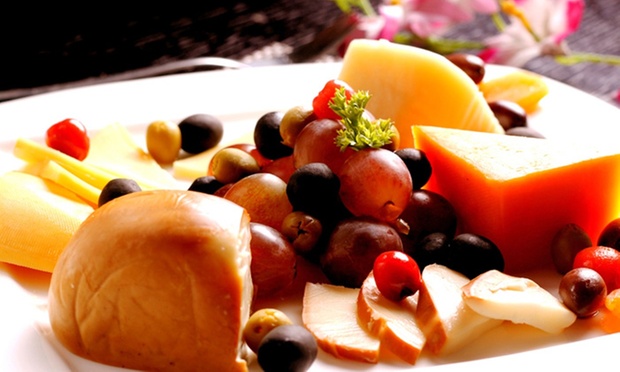 Groupon Menu
BUFFET BREAKFAST:
Hot Section
Indian
Matar Wale Choley / Kulcha
Choley/ Bhature
Aloo Bhajji/ Puri
Pao/ Bhaji
Samber
Dal Vada/ Plain Idli/ Veg Idli/ Medhu Vada
Masala Dosa/ Plain Dosa/ Rawa Dosa/ Paneer Dosa
Poha
Mini Veg Uttapam / Coconut Uttapam / Tomato Uttapam /
Upma/ Semiya Upma/ Lemon Rice
Paneer Parantha/ Aloo Parantha/ Gobhi Parantha/ Mix Veg Parantha
Veg Korma And Kerala Paratha
Continental
Corn & Mushroom Porridge
Porridge / Veg Congee
Chicken Congee
Sautéed Vegetable/ Sautéed Mushroom/ Sautéed Baby Corn
Hash Brown Potato/ Potato Wedges
Baked Beans
Corn Quiche/ Veg Quiche
French Toast/ Pancake/ Waffle
Live Egg Counter
Asian Soup: Veg Noodles Soup/ Miso Soup / Veg Sweet Corn Soup
Cold Section
Assorted Lettuce with Dressing & Beans Sprout
Flavored Curd & Plain Curd
4 Types of Cheese (Emanthal, Smoked Scarmonza, Yellow Cheddar, Gauda, Edamball, Mozarella)
4 Types of Cold Cuts (Smoked Salmon, Chicken Salami, Peproni, Ham, Mortedeela, Smoked Chicken)
4 Types of Cut Fruits (Papaya, Rambutan, Watermelon, Cantaloupe, Grapes, Pineapple)
4 Types of Dry Fruits (Almonds, Pistachios, Raisins, Apricot, Prunes, Cashew Nut - With Cheese Crackers)
2 Types of Fresh Juices (Watermelon, Pineapple, Tomato, Cucumber, Carrot, Mixed Fruit and Seasonal Fruit Juices)
4 Types of Cereals (Cornflakes, Wheat Flakes, Chocos, K Special, Muesli, and Puff Rice)
Choice of Lassi /Smoothies/Shakes (Butter Milk, Strawberry & Mango Smoothies, Chocolate, Mango, Strawberry & Vanilla Shakes)
Bircher Muesli (Cold Milk, Hot Milk, Soya Milk, skimmed & Full Cream)
Morning Bakery
White/Brown Bread
Raisin Muffin/Chocolate Muffins
Sugar Doughnut/Chocolate Doughnut
Plain Croissant/Multigrain Croissant/ Chocolate Croissant
Brioche/ Plain Bagel
Danish Pastry/ Kiwi Danish/ Custard Danish
Fruitcake/Carrot Cake/Banana Cake/Marble Cake
Bread Loaf/Garlic Bread/Multigrain Bread/ Rye Bread
Jams/ Butter/ Honey/ Nutella/ Peanut Butter
Green Olive/ Black Olive/ Sundry Tomato/ Capers/ Pickle Onion/ Jalapeno/ Green Pepper
Choices of Tea, Coffee
Hot Chocolate, Horlicks, Bournvita
BUFFET DINNER:
Soup
Veg
Dal Shorba
Cream of Mushroom
Cream of Tomato
Cream of Asparagus
Cream of Broccoli
French Onion Soup
Spinach & Garlic
Veg. Sweetcorn
Veg. Hot N Sour
Tom Yam Soup
Non-Veg
Chicken Celery
Cream of Chicken
Chicken Lemon Coriander
Lamb Broth
Chicken Manchow
Chicken Sweetcorn
Chicken Dumpling Soup
Chicken N Lemon Grass Soup
Chicken N Coriander Soup
Chicken Hot & Sour
Salads
Veg
Chana Chaat
Aloo Aur Anar Ki Chaat
Lobiya Chaat
Fruit Chaat
Kachumber Salad
Green Salad (Tossed/Sliced)
Shakarkand Ki Chaat
Hari Moong Ki Chaat
Bhalle Papdi Chaat
Bean Sprout Salad
Kidney Bean Salad
Russian Salad
Waldraff Salad
Celery & Potato Salad
Greek Salad
Pumpkin Salad
Tabbouleh Salad
Baby corn Sweet Chilly
Roasted Bell Pepper
Beetroot & Orange Salad
Assorted Lettuce
Broccoli pasta Salad
Insalata De Capris
Raw Papaya Salad
Non-Veg
Egg & Potato Salad
Egg Cocktail Salad
Chicken Tikka Salad
Seekh Kebab Salad
Thai Chicken Salad
Chicken Lemon Grass Salad
Chicken Glass Noodle Salad
Main Course
Veg
Veg Curry
Mushroom Do Pyaza
Bhindi Masala
Mirch Baingan Ka Salan
Adraki Gobhi
Subz Jalfrazi
Arbi Masaledar
Navratan Korma
Dum Aloo Kashmiri
Aloo Methi
Nizami Handi
Palak Paneer
Paneer Butter Masala
Paneer Makhni
Shahi Paneer
Malai Kofta
Kadhai Paneer
Paneer Pasanda
Dal Makhni
Dal Tadka
Dal Palak
Dal Hyderabadi
Dal Panchmel
Rajma Masala
Rawalpindi Chole
Chana Dal Tadka
Chana Masala
Lobia Masala
Non-Veg
Goan Fish Curry
Malabar Fish Curry
Kadhai Murgh
Saag Murgh
Dhaba Murgh
Methi Murgh
Murg Makhni
Chicken Tikka Masala
Shahi Murgh Korma
Chicken Chettinad
Murgh Khada Masala
Murgh Jalfrazi
Murgh Shahjahani
Chicken Curry
Murgh Lababdar
Murgh Do Pyaza,
Mutton Roganjosh
Rara Gosht
Kadhaigosht
Peshawar gosht
Saag Gosht
Dhaniya gosht
Methi gosht
Dalcha gosht
Bhuna gosht
Achari gosht
Keema Kaleji
Keema Mattar
Mutton Korma
Lal Maas
Mutton Kolhapuri
Mutton Do Pyaza
Mutton Chap Masaledar
Mutton pepper fry
Khade Masala Ka gosht
Mutton Curry
Continental
Veg
Baked Vegetables
grilled Vegetables
Sautéed Vegetables
Cottage Cheese Stroganoff
Cottage Cheese Steak
Spinach Artichoke
Fromage Mushroom Corn Baked
Stuffed Peppers
Penne pasta
Rakas Corn Caso
Veg Ratatouille
Non-Veg
Chicken Steak Pepper Sauce
Chicken Stroganoff
Sliced Chicken Lemon Garlic Sauce
Mexican Chicken
Chicken in Red Wine Sauce
Barbeque Chicken Sauce
Cannelloni Garlic Chicken
Chicken Ravioli
grilled Fish (Lemon Butter Sauce/Lemon Garlic Sauce)
spaghetti Bolognese
Rice- Steamed Rice, Veg Pulao, Jeera Rice, Peas Pulao, Kashmiri Pulao, Veg Biryani, Gosht Biryani, Chicken Biryani
Raita- Pineapple Raita, Cucumber Raita, Boondi Raita, Mix Veg. Raita
Breads-Assorted Indian Breads (Naan, Lachha Parantha, Tandoori Roti)
Condiments - Achar, Papad, Chutney
Desserts
Gulab Jamun
Rasgulle
Ras Malai
Chena Pie
Rajbhog
Phirni
Kesari Phirni
Kheer
Fruit Kheer
Gajar Halwa (Seasonal)
Moong Dal Halwa
Besan Halwa
Ice Cream
Brownies
Assorted Pastries
Mousse
Shuffle
Sunday Brunch menu will be displayed at the restaurant
Groupon Partner: Fraser Suites
Fraser Suites, New Delhi by Singapore based Frasers Hospitality, is built around the needs of today's travelers. The 9-storey magnificent Gold Standard property with only Suites and Luxury Service Apartments offers the ideal living environment for even the most tech-savvy guest, along with exceptional levels of personal services.
Accommodation & Features:
Studio Suite - One- Bedroom Suite - Two- Bedroom Suite 
Residence Features:
Fully furnished Serviced Residences with Integrated Living, Dining and Kitchen, Wireless Internet Access, Air-Conditioning with Individually Controlled Thermostats, Exclusive Elevator access to Residences with Security Keycard System, Direct-dial Telephone with Voicemail, In-Room Safe, Steam and Ironing Board, iPod Docking with Alarm Clock, Comprehensive Home Entertainment System.
Restaurant: The Epicure offers you the choicest of International and Indian cuisines. Open 24X7.
The Retreat on the 9th floor, is equipped with spa and saloon, sauna, jacuzzi, fitness centre, kids room, foosball, snooker table, and 3D golf Simulator.
They offer two Conference halls which can accommodate over a hundred people and a State of the art Business Centre, making the Hotel ideal for corporate bookings.

INHotelS
Unfortunately the following deal is no longer available
but do not worry, there are more discounts for you
---