Treat hungry mouths and parched throats to a warm feast with drinks. Sooth the belly with this Groupon.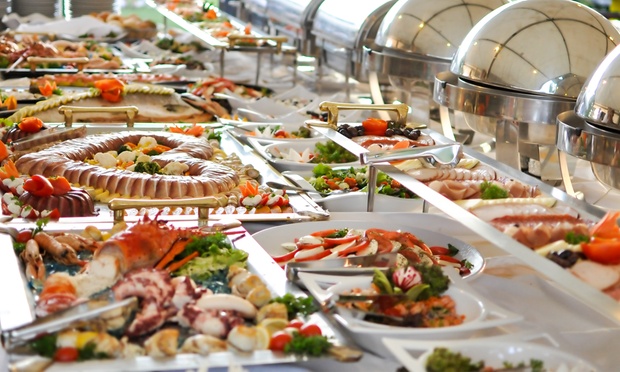 Buffet Breakfast Spread:
Cereals: Corn Flakes & Choco Flakes
Cut Fruits (3 Types):
Watermelon / Papaya
Pineapple / Seasonal Fruits
Breads: White & Brown Bread
Juice: 1 Fresh Juice
Butter & Jam
Beverages:
Tea Selections (4 Types):
Regular
Masala
Green
Lemon
Coffee: Nescafe
Bournvita
Hot & Cold Milk
Make to Order:
Veg:
Sandwiches to Order
Non-Veg:
Eggs to Order
grilled Chicken Sausages
Buffet Counter:
Boiled Eggs
South Indian Dishes:
Idli – Sambar, Chutney
Menduwada
Upma
Dosa
Maharashtrian Dishes:
1 Maharashtrian Preparation
1 Special Maharashtrian Preparation
North Indian Dishes:
Stuffed Paratha with Curd
Desserts:
1 Hot Dessert
1 Cold Dessert
Buffet Lunch Spread:
Soups:
1 Veg
1 Non-Veg
Salad, Raita & Papad:
4 Veg Salads
Assorted Green Salad
Raita
Papad
Starters:
Veg:
1 Oriental Starter
1 Tandoor Starter
1 Indian Starter
Non-Veg:
1 Non-Veg Oriental Starter
1 Non-Veg Tandoor Starter
1 Indian Fish Starter
Main Courses:
Veg:
1 Indian Paneer Preparation
1 Mix Veg Indian Preparation
1 Indian Dry Preparation
1 Dal Preparation
1 Oriental Veg Preparation
Non-Veg:
1 Indian Mutton Preparation
1 Indian Chicken Preparation
1 Oriental Chicken Preparation
Indian Breads: Roti / Naan
Rice / Noodles / pasta:
Oriental & Indian Rice Preparation
Oriental Noodle Preparation
Italian pasta
Fresh Cut Fruits: 3 Types
Desserts:
2 Hot Indian Desserts
2 Cold Desserts
1 Ice Cream (Vanilla / Strawberry / Chocolate)
Groupon Partner: Clove - Temple of Taste
Clove boasts of having a menu with signature recipes designed by their talented team of chefs. This fine dining restaurant is conveniently located in Thane and serves multiple cuisines.  
Unfortunately the following deal is no longer available
but do not worry, there are more discounts for you
---