Forget that hectic day and put yourself in a better mood instantly with this Groupon!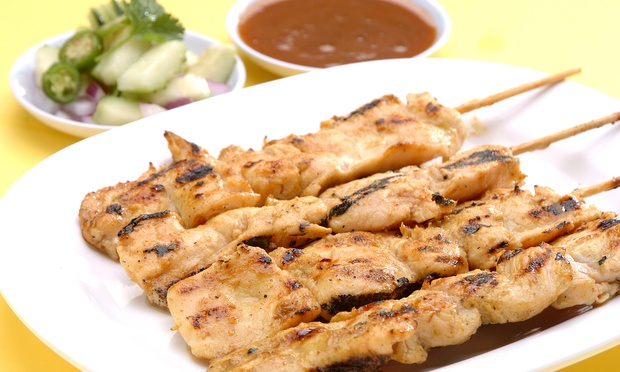 Groupon Menu
Starters:


Non Veg
Flambéed Prawns, Liqueur Butter
Kasundi Fish-Tikka, Mint Chutney, Onion Salad
Minced Spiced Prawns Toast Baked with Sesame
Chicken Kathi Roll. Mint Chutney , House Salad
Chappli Kebab Sandwich: Flavorful Mince Meat Kebab Filled in Pita Pockets, Onion Rings, Hummus
Vodkaad!!! Chicken Tikka, Sour Cream Onion Dip
Chicken Satay, Peanut Butter, Khimchi
Jerk Spiced Roasted Chicken Tarts
Chicken Banno Kebab, Mint Chutney, Onion Salad
Adraki Lamb Mince Chops, Salad,Mint Chutney
Penne Alfredo / Arabbiata / Pesto / Napoleon / Puttanesca
Paneer Kathi Roll, Mint Chutney, House Salad
Pesto Marinated Exotic grilled Vegetables Platter
Mini Focaccia, Balsamic Veges, French Fries.
Nutty Vegetable Burger, Melted Cheese, House Salad, Jumbo Fries
Tandoori Chicken Chaat
Veg
Baked Ratatouille Crepes, Sour Cream, Tomato Salsa
Mexican Cottage Cheese Skewer
Cheese Chili Mousse Toast
Potato Cashew Touk
Earthen Oven Paneer Tikka, Onion Rings, House Salad, Mint Chutney
Masala Green Peas Mini Samosa, Tomato Tamarind Relish
Ultimate Masala French Fries
Masala Peanut With Jalapeno
Arabic Mezze Platter Hummus, Fattoush, Tabouli, Lavash
Crudités: Assorted Garden Veggies, Hung Yogurt, Crushed Pepper, Dill, Honey Dip
Groupon Partner: Marine Plaza - Geoffrey's
Marine Plaza - Geoffrey's, located at the end of the Marine Drive caters to the people young at heart serving as an ideal place to mix business with pleasure or to just unwind after a hectic day. They have a selection of drinks combined with an interesting selection of international cuisine makes Geoffrey's the ultimate pub experience.
Unfortunately the following deal is no longer available
but do not worry, there are more discounts for you
---