When people need to be comforted, they often turn to food or to the shirt they have that most smells like food. Sniff this Groupon.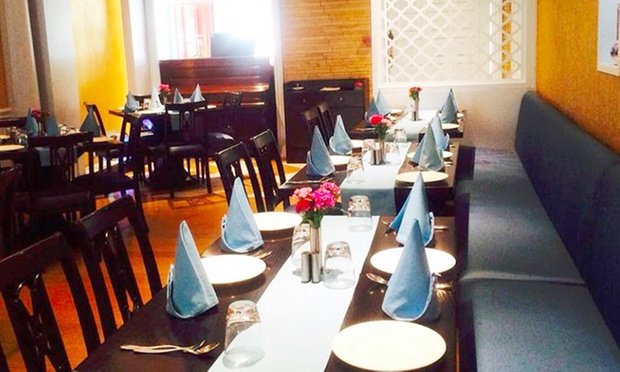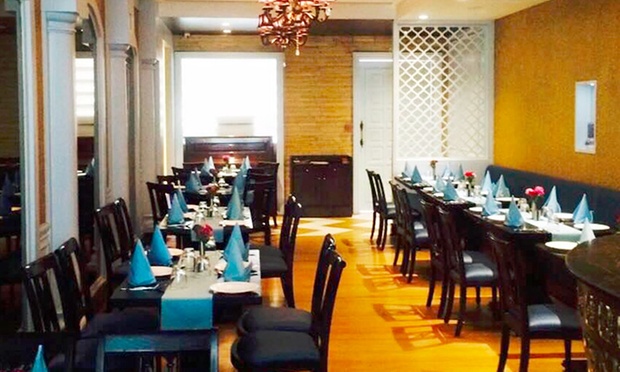 Soup
Seafood Bean Curd Soup
Seafood Clear Soup
Burnt Garlic Soup
Tom Yum
Tom Kha
Manchow
Sour N Pepper Soup
Lemon Corriander Soup
Mie Bakso
Asparagus Sweet Corn Soup
Starters
Wasabi Prawns
Prawn Pepper Salt
Golden Fried Prawns
Kung Karth Prawn
Crispy Fish Thai Chili Sauce
Crispy Fish in Piquant Sauce
Konjee Crispy Lamb
Kai Chi
Chicken Satay
Vietnamese spana-1655-6">grill Chicken
Beijing Chicken
YakiTori
Chili Chicken Dry
spare Ribs
Chicken Aniseed
Poh Pia Tod
Crispy Vegetable Pepper n Salt
Thing Ming Mushroom
Vegetable Tempura
Lotus Stem Honey & Chili
Tofu Aniseed
Golden Fried Wasabi Veg
Vegetables
Mixed Vegetable in Choice of Sauce
Vegetable Pad Prick Pao Pak
Vegetables in Green / Red Curry (Thailand)
Stir Fried Chinese Green with Roasted Garlic
Chap Chee
Mixed Vegetables Cantonese
Stir Fried Vegetables with Basil
Egg Plant in Choice of Sauce
String Beans with Spicy Sauce 9China)
Seasonal Vegetables in Sichuan Sauce (China)
Shredded Potato Hot Garlic Sauce (China)
Pakchoy with Black Mushrooms Oyster Sauce (Thailand)
Five Combination Vegetables
Seafood
Jumbo Prawns
Prawns Red Curry
Prawns (Choice of Sauces)
Poo Pad Pong Garee
Crab Sinspana-257-6">gapuri Style
Malaysian Butter Garlic Crab
Crab Black Pepper Sauce
Sliced Fish
Talay Pad Chah
Goong Tod Kratiam
Pla Neung Khing
Pla Mano Khing
Pla Sam Rod
Fish (Choice of Sauces)
Chicken
Diced Chicken in Choice of Sauces
Sliced Chicken in Choice of Sauces
Shredded Chicken in Choice of Sauces
Sliced Chicken Angel
Chicken red / Green Curry
Hunan Chicken
Pad Kapao Krop Kai
Kung Pai Chicken
Crispy Chicken Honey & Chili
Diced Chicken Hong Kong
Lamb
Shredded Lamb Hot Garlic Sauce
Sliced lamb with Fresh Red Chili and Basil
Lamb (Choice of Sauces)
Rice
Steam Rice
Sticky Rice
Fried Rice vegetable (China)
Fried Rice with Choice of Chicken / Egg (China)
Nasi Goreng (Indonesia)
Pinespana-311-6">apple Fried Rice (Thailand)
Ginger Chili Garlic Fried Rice (China)
Mixed Fried Rice (China)
Laksa Seafood Rice
Burmese Rice
Clay Pot 9Choice of Sauces)
Noodles
Mix Hakka Noodles - Prawn & Chicken Noodle with Egg (China)
Pan Fried Noodles - Prawn / Chicken / Veg (China)
Phad Thai - Chicken / veg (Thailand)
Hakka Noodles - Chicken / Veg (China)
Sinspana-257-6">gapore Rice Noodles - Chicken / Veg
Khao -Suey
Chili Garlic Noodles (China)
Desserts
Blue Berry Cheese Cake
Sweet Red bean Pan Cake with Ice Cream
Brownie with Ice Cream
Lychee with Ice Cream
Figs with Ice Cream
Vanilla Ice Cream with Hot Chocolate Sauce
Groupon Partner: Chinois
Centrally located in Lodhi Colony, Delhi, Chinois is known for their sumptuous 4-course meals. The warm and welcoming ambiance puts customers at an immediate ease as they enjoy the mouth watering food.
Unfortunately the following deal is no longer available
but do not worry, there are more discounts for you
---