They say eating at a good restaurant can make you feel like a king, but historically kings always had to eat in their castles and probably alone. Feel even better than royalty with today's deal for a lavish 4-course meal with drinks at Rasaas.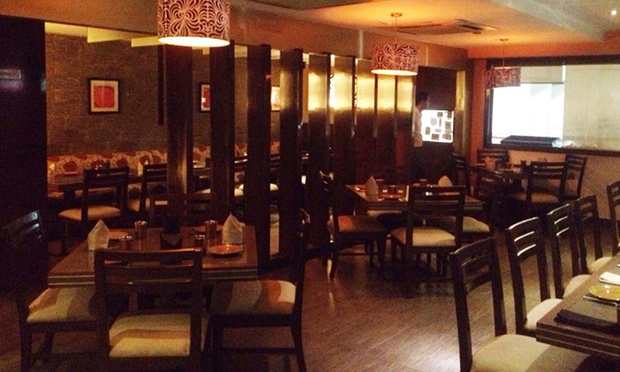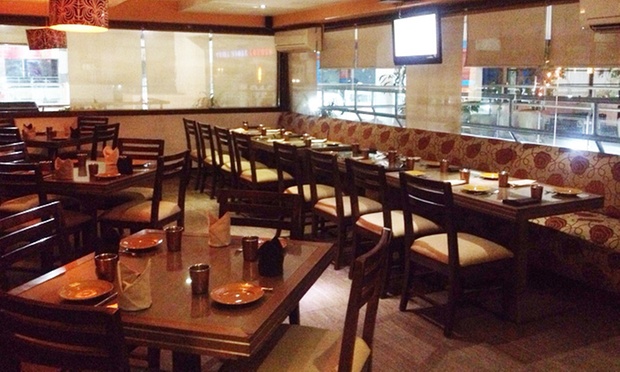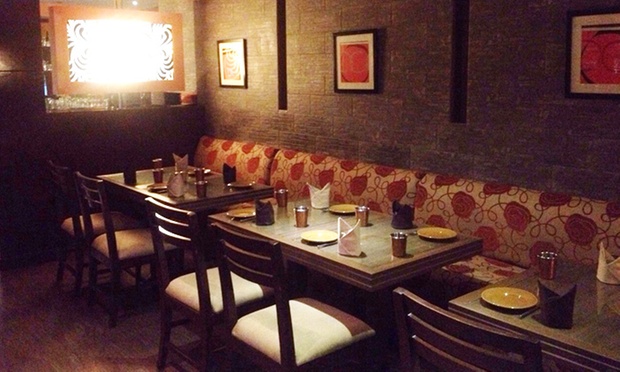 Soup
Veg
Sab Se Pehla Ras
Dhaniya Tamatar Ka Shorba
Dal ka Shorba
Subz aur Bhuttey ka Shorba
Non-Veg
Murg Shorba
Murg aur Bhuttey ka Shorba
Starter
Veg
Crispy Corn
Veg Spring Rolls
Golden Fried Baby Corn
Veg Sal N Pepper
Honey Chili Potatoes
Chili Paneer
Chili Mushroom
Veg Manchurian
Non-Veg
Chili Chicken
Lemon Chicken
Chicken Manchurian
Drums of Heaven
Golden Sesame Chicken
Chicken Salt & Pepper
Chicken Hunan Style
From the Wok-Veg
Vegetables Balls in Manchurian Sauce
Assorted Vegetables in Chili Garlic Sauce
Vegetable Sweet & Sour
Mushroom & Babycorn in Hot Pepper Sauce
Diced Cottage Cheese in Chili Sauce
From the Wok-Non-Veg
Chicken in Black Beal Sauce
Chicken Tossed in Szechwan Sauce
Chicken in Chili Sauce
Chicken in Manchurian Sauce
Main Course
Karara Ras - Veg
Paratwala Paneer ka Shoola
Achari Paneer Tandoor se
Chutney Paneeer Tikka
Sigree Ki Bharwan Khumb
Barwan Tandoori Aloo
Subz Ki Kakori
Palak Aur Dahi ka Kebab
Tashtari e kebab
Karara Ras - Non-Veg
Tangri ka Kebab
Bhatti ka Choozakka
Chooze ka Malai Tikka
Chooze Parde Mein
Anardana Tikka
Do Nali Kebab
Bedavi Anda
Patanga Kebab
Seekh Gosht Ki
Gosht Botiyaan Tawe Se
Tashtari e kebab
Khaas Ras -Veg
Paneer Makhanwala
Shahi paneer
Paneer ki Khurchan
Lehsuni Bhurji Paneer Ki
Palak Moti
Malai Rattan
Khumb Hara Pyaaz
Khumb Matar
Matar Shahjahani
Chownki Matar
Aloo Gobhi Adraki
Aloo Chutneywale
Subz Sangam
Heeg Zeeray Ke Aloo
Kurkuri Bhindi
Khaas Ras -Veg
Rassey Missey Choley
Maah Di Makhanwali Dal
Tadkewali Peeli Dal
Khaas Ras -Non-Veg
Makhani Chooza
Kadai Ka Chooza
Chooza Raseela
Lababdaar Chooze Ke Tikkey
Methi Ke Saath Chooza
Rarrhy Gosht
Dhabe Wala Gosht
Saag Gosht
Keema Aur Matar
Anda Curry
Groupon Partner: Rasaas
Located in sector 9, Rasaas is a casual dining restaurant that specializes in North Indian cuisine. The interiors sport a contemporary look with simple yet elegant upholstery. The menu offers a wide range of food and drinks selection for the guests to choose from.
Unfortunately the following deal is no longer available
but do not worry, there are more discounts for you
---