Like a 128-pack of crayons, a buffet offers an array of colorful options irresistible to starving artists. Color yourself satisfied with today's deal to Citrus Café – Lemon Tree Hotel.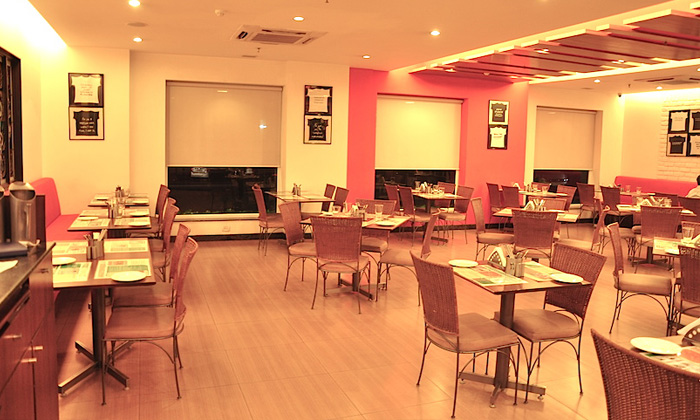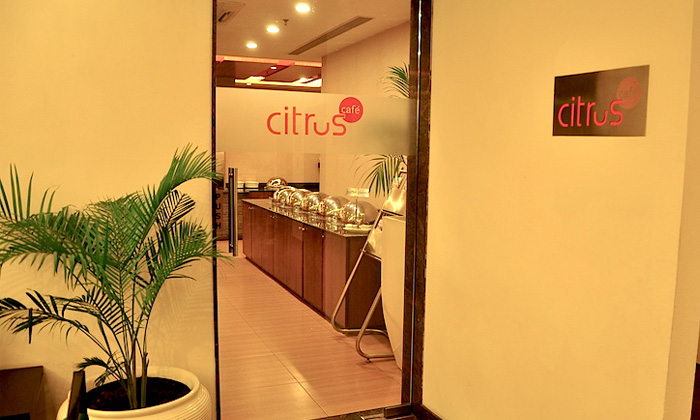 The Deal
Choose from the following offers:

Offer 1 for 1 Person - Rs.225 instead of Rs.420: Buffet Breakfast
Offer 2 for 1 Person - Rs.375 instead of Rs.735: Buffet Dinner + UNLIMITED Mocktail of the Day
Offer 3 for 2 Persons - Rs.675 instead of Rs.1470: Buffet Dinner + UNLIMITED Mocktail of the Day
Offer 4 for 4 Persons - Rs.1199 instead of Rs.2940: Buffet Dinner + UNLIMITED Mocktail of the Day
GROUPON MENU
Buffet Breakfast:
Whole Fruits
Fresh Cut Fruits
Juice - Fresh Juice ,1 Canned
Breakfast Roll – 4 Types
Bread - White And Brown
Preservative - Mix Fruit,OrangeMarmalade, & Butter
Cheese Platter
Cereals - Corn Flakes, Muesli, Choco Flakes, Wheat Flakes.
Milk - Hot Or Cold With Honey & Dry Fruit
Curd Preparation - Plain, & Flavored
Shakes, Lassi, Butter Milk - 3 Types(any one)
Cold (Non-Veg):
Chicken Salami/ Pork Ham/Bacon
Veg Sandwiches - Assorted Or Veg Sandwiches
Hot Station (Non-Veg) – Chicken / Fish
Hot Station (Veg) - Baked Beans/ Porridge, Potato Wedges, grilled Tomato/Sauté Vegetable
Indian - Paratha, Poori, Bhaji / Bhature / Veg Bonda / Pakora
South Indian – Idly / Wada / Bonda / Upma / Poha with Sambar & 3 Types of Chutney
Live - Eggs Counter( Masala omelets/Fried Egg/Sunny Side Up/Over Easy/Scrambled Eggs/Boiled Egg/Poached Egg)
Pickles
Gujarati – Khaman/ Patra/Khandvi/Khakra/ Dhokla
Dosa / Uttapam / Parantha: On Order

Buffet Dinner:

Starter: Chef's Choice of Vegetarian Starter
Mock tail: Chef's Choice
Soups: 01.veg
Salads:
6 Veg Salad Bar
Veg Main Course:
1 Continental Veg Main Course/ pasta
1 Oriental Veg Main Course
4 Indian Veg Main Courses (3 Veg + 1 Dal)
Non-Veg Main Course:
Fish / Mutton / Chicken
Accompaniments:
2 types of Rice
Indian Breads(Tandoori Roti,Naan,Parantha,Kulcha)
Assorted Bread Rolls
Pickles
Curd
Raita
Curd Rice
Assorted Papads
Desserts & Ice Cream:
1 Hot Indian Dessert
1 Cold Indian Dessert
1 Cold Continental Desserts
Ice Cream & Cut Fruits


Timing:
Breakfast - 7:00AM to 11:00AM
Dinner - 7:00PM to 11:00PM


Citrus Café is located within the luxurious Lemon Tree Hotels in Navrangpura. It serves a variety of cuisines from across the world. Citrus' USP is 'Ghar ka Khana' and it plates up local specialties as well as offering an eclectic Indian and international menu.
AYE2014
Unfortunately the following deal is no longer available
but do not worry, there are more discounts for you
---