If you're an ardent foodie, it must be your dream to be entitled to exclusive privileges. Here's your passport to 594 buy-one-get-one-free deals at the best restaurants in Delhi-NCR and Mumbai.
Sounds too good to be true? Well, with today's deal, you're about to discover that dreams can be real.
The Deal:
Pay ONLY Rs 1,999/- for the Gourmet Passport 2015-16 – The Ultimate Dining Privilege!
Package includes 594 "Buy 1 Main Course or Cocktail, Get 1 Main Course or Cocktail FREE" Coupons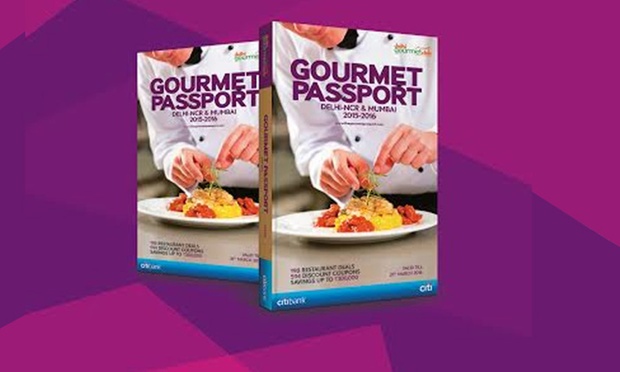 The ingenious gastronomes of the Delhi Gourmet Club have released the third, bigger and sleeker edition of the much-acclaimed Gourmet Passport!
The 2015-16 edition has not only its by-now-famous "Buy 1 Main Course Get 1 Main Course FREE" coupons – 594 of them compared with last year's 402 – valid at 198 restaurant locations across Delhi/NCR and Mumbai, but also more Mumbai restaurants, a new 'Happy Hours 24 Hours' section of discounts on cocktails, and a tie-up with My Square, the most happening food court at Select Citywalk, New Delhi, which entitles users to 36 discount coupons of Rs 150/- each.
How it Works:
Each of the 198 restaurants have offered 3 discount coupons, which adds up to the total of 594 coupons per copy of this book.
Each voucher entitles you to the lowest (or lower)-priced main course (or one same- or lower-priced cocktail) being taken off your bill when two or more of you dine out at any one of the participating restaurants. If you do not order two or more main courses, then the second least expensive food item will be deducted from the bill.
So in a Nutshell:
When 2-3 people dine out, ONE discount coupon of a restaurant/bar entitles you to one free main course (or cocktail) which is the least expensive one on your bill.(Minimum Order: 2 main course items.)
When 4-5 people dine out, then you can hand out TWO discount coupons of that restaurant/bar to get two of the lower-value main course items free of cost. (Minimum Order: 4 main course items.)
And when 6+ people dine out, then THREE vouchers of that restaurant can be used to get three of the lower-value main course items free! (Minimum Order: 6 main course items.)
Unfortunately the following deal is no longer available
but do not worry, there are more discounts for you
---