Edesia, being the goddess of food, is the final critic of delectable cuisine and fine wine. She requires only the freshest of produce to give out the finest flavors. Treat your taste buds with this Groupon.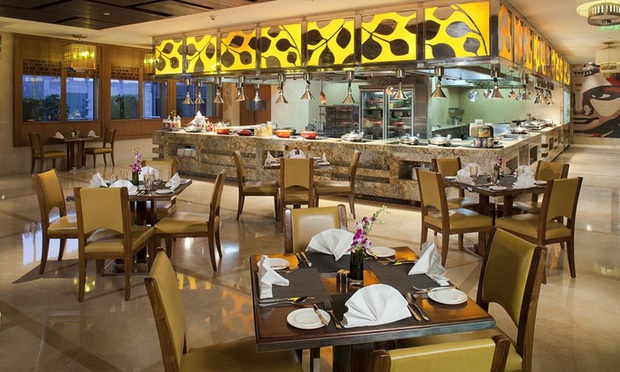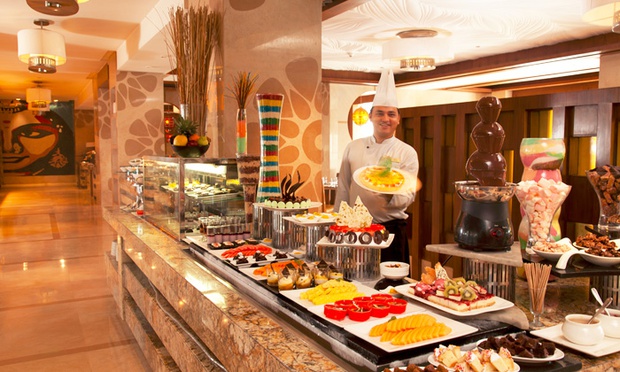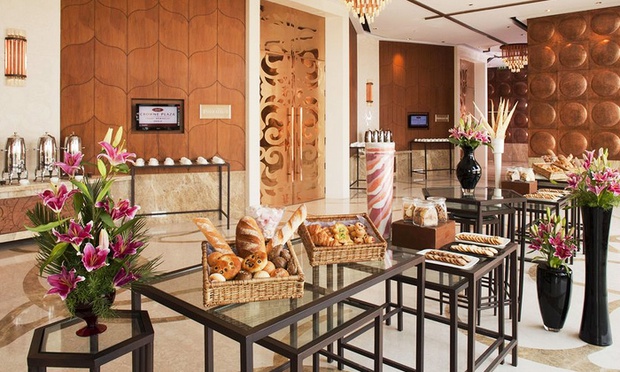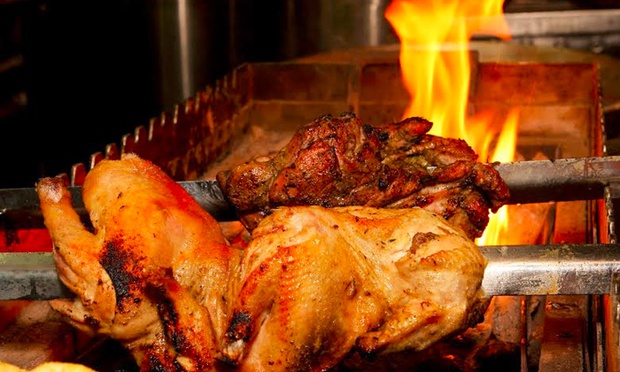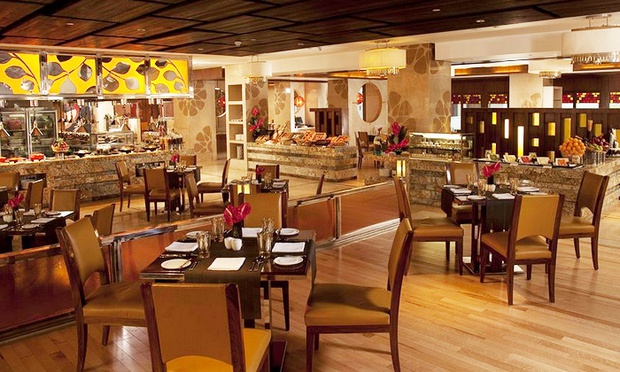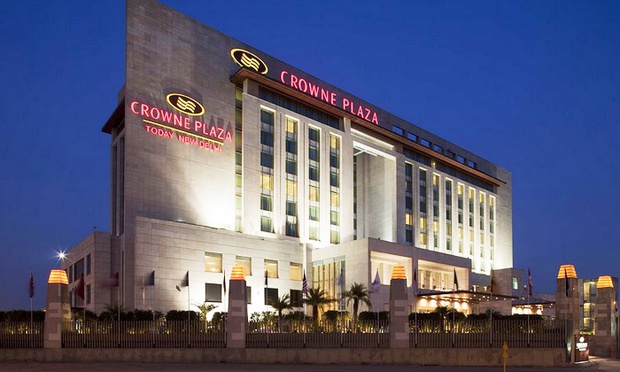 GROUPON MENU
Buffet Breakfast
Fresh Juice and Fresh Fruits Section
Selection of 4 Freshly Squeezed Juices like Pineapple, Watermelon, Mix Vegetable and Sweet Lime / Orange Juice. Fruit Compotes Whole Fruits Like apple, Banana and Pears
Morning Bakeries and Breads Section
Selection of Croissant, Danish Pastry, Muffins, Doughnuts, Marble Cake, English Bread, Whole Wheat / White Toast
Cereal Section
Choice of Corn Flakes, Wheat Flakes, Choc Flakes, Rice Crispies, Bircher Muesli with Choice of Milk (Full Cream, Low Fat and Soya)
Hot Buffet
Egg Station
Eggs are cooked to your order by the Chef
grilled Chicken
Selection of sausages and streaky bacon
Hash Brown Potatoes and Baked Beans
Sautéed Vegetables, grilled Tomatoes
Pancakes
Indian Selection
Parantha
Idli / Dosa / Uthapam
Vada / Pongal / Upma
Poori Bhaji / Chole Bhature
Asian Selection
Congee, Sticky Rice, Miso Soup
grilled Fish, Japanese Omelette
Cold Buffet
Smoked Chicken, Chicken Mortadella, Chorizo
Cheese Board
Selection Of Homemade Yoghurt
Choice of Tea/Coffee
Buffet Lunch / Dinner / Sunday Brunch:
5 Food Stations Will Be Set Up In Buffet Style:
Station 1 – Dessert Counter
Station 2 – Salad Counter
Station 3 – Biryani
Station 4 – Soup Station
Station 5 – Hot Food
Western / Asian-Japanese & Chinese / Indian will be cyclic
Station 1 – Dessert Counter:
Strawberry Mousse
Blueberry Mousse
Strawberry Cheese Cake
Chocolate Almond Tart
Raspberry Panna Cotta
Mud Pie
Flourless Cake
Blueberry Gateaux
Dark Cherry Roulade
Pineapple Upside Down
Mango Cheese Cake
Chocolate Brownie
Honey Nut Tart
Badam Ka Halwa
Rasmalai
Station 2 – Salad Counter:
Thai Raw Papaya Salad
Tossed Green Salad
Baby Corn & apple Salad
Tofu & Mushroom Salad
Broccoli and Bocconcini Salad
grilled Vegetable Salad
Pickle Cottage Cheese & Pears Salad
Cucumber & Hung Curd Salad
Couscous Salad
Basil Tabbouleh Salad
Prawn & Coconut
grilled Chicken & Sweet Corn Salad
Tuna & Penne Olives
Spicy Tenderloin Salad
Bread Display:
Rye Bread, Oatmeal, French Baguette, Whole Wheat Bread, Foccassia, Grissini Sticks
Accompaniment: Prunes, Olives, Cheese Crackers, Walnuts, Celery
Salad Bar with 6 - 8 Types of Anti-Pasti:
Lettuce, Condiments & Dressings
Cold Cuts (4 Types of Cold Cuts – Smoked Chicken, Chicken Olive Mortadella, Pork Chorizo & Pork Pepperoni)
Station 3 – Biryani:
Vegetable Biryani
Fish Biryani
Homemade Pickles in Small Jars, Different Types of Papads, Raitas (2 Types), Dahi Bhalla / Dahi Pakodi & Other Accompaniments Like Laccha Onions / Masala Onions, Lemon Wedges, Chilies, Cocktail Onions (Vinegar) Etc.
Station 4 – Soups:
Chicken Sweet Corn
Roasted Pumpkin
Station 5 – Hot Food:
Indian Station:
Bhuna Ghost
Achari Murgh
Kasoori Paneer
Tinda Aloo Masala
Bhindi Do Pyaza
Dal Dhaba Tadka
Steam Rice
Live - Indian Breads –Naan, Roti, Parantha
Asian (Oriental):
Hakka Noodles
Dice Chicken Chili Oyster Sauce
Slice Pork in Hot Garlic Sauce
Mix Vegetable in Garlic Wine Sauce
European:
Lamb Crockpot
Chicken Schnitzel
Honey Glaze Pumpkin
Roasted Potato Wedges
Gratinated Garden Vegetable
Ratatouille
Note: This is a sample menu
Groupon Partner: Edesia at Crowne Plaza Today
Edesia is Crowne Plaza's prime restaurant and also a major landmark in south Delhi. It has a unique show kitchen with live cooking by interactive chefs. It serves Asian and Western cuisine and also has a coffee lounge with signature coffees and delectable eats. ChaoBella, another in-house restaurant, serves Italian and Chinese.
Unfortunately the following deal is no longer available
but do not worry, there are more discounts for you
---