How to feel awesome when you're daily dose of energy just didn't do the usual magic? Gird up & head to the New York Cafe with this Groupon where happiness comes on a jaunty plate.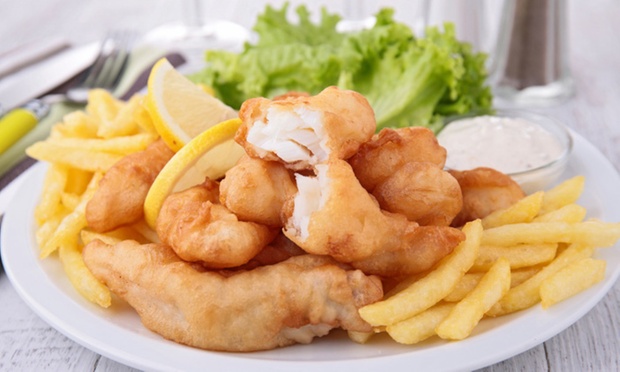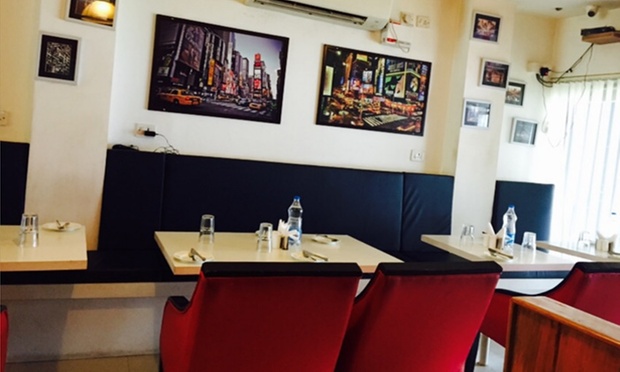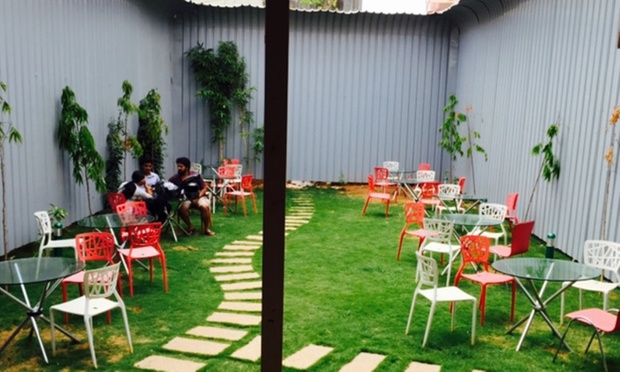 Appetizers:
Chicken Jiaozi – Chinese pan fried pot stickers / dumplings
Paneer Jiaozi – Vegetarian pan fried pot sticker / dumplings
Buttermilk Batter Fried Zucchini – Served with ranch dressing
Breaded Mozarella Sticks – Fried breaded mozzarella sticks served with pomodoro sauce
Mutton Meat Balls With Tomato Sauce – Mutton meat balls cooked in tomato sauce with parmesan cheese
Bacon Wrapped Prawns – Batter fried bacon wrapped prawns served with hot garlic sauce
Corn Croquettes – Breaded corn croquettes made with corn and cream
Snacks:
Garlic Bread – Toasted bread coated with garlic butter
Chicken Tenders – Breaded chicken tenders served with honey mustard sauce
Mini Mezze – Hummus tahini (chick peas dip) and baba ghanoush (roasted aubergine) served with toasted pita chips
Nachos And Cheese – Tortilla chips with refried beans and jalapeños with melted cheese, topped with salsa, guacamole and sour cream
Chicken Wings – Chicken wings cooked with spicy peri peri sauce
Chili Cheese Fries – French fries topped with chili cheese sauce
Vegetarian Quesadillas – Pan grilled tortillas with cheese and jalapeños
Chicken Quesadillas – Pan grilled tortillas with cheese and shredded chicken
Golden Fried Prawns With Aioli Sauce – Fried breaded prawns served with Mediterranean garlic mayonnaise
Sandwiches & Wraps:
grilled Vegetable Panini Sandwich – grilled vegetables with olive oil and Italian herbs tossed in pomodoro sauce and mozzarella grilled in focaccia bread
Falafel Sandwich – Middle Eastern falafel wrapped in pita bread and served with tahini sauce, lettuce, tomato and gherkins
Harissa Paneer Wrap – Moroccan style sandwich with paneer cooked with harissa, sweet peppers and onions in pita bread
Chicken Shashlik Wrap – Chicken kebabs marinated in middle eastern spice cooked in tandoor served in tortilla with tzaziki sauce, lettuce and gherkins
Fish Burger – Fillet of fish with tartar sauce in burger bun
Mutton Meatball Sandwich – Meatballs in red pasta sauce with mozzarella cheese in panini
Paneer Burger Sandwich – Spiced paneer pieces served in burger
Veggie Burger – Vegetable patty griddle cooked and served in bun with ketchup, mayonnaise, lettuce, cheese and tomatoes
Veg NYC Club Sandwich – Triple decker club sandwich made with paneer, grilled vegetables and cheese
Egg Sandwich – Classic egg sandwich made with choice of bread with boiled eggs, mayonnaise, shallots and gherkins
NYC Club Sandwich – Triple decker sandwich with chicken salad, egg, chicken bacon and vegetables
Smoked Chicken Sandwich – With mustard sauce with crispy lettuce and tomatoes
Chicken Parmigiana Sandwich – Panini / Baguette with chicken parmigiana filled, pasta sauce, mozzarella and parmigiana cheese
Tuna Melt – Sandwich made with tuna fish, cheddar cheese and bread which is served grilled
Tuna Sandwich – Tuna fish salad served in two slices of multi grain bread
Chicken Burger – Chicken burger (all meat) grilled and served with cheese, lettuce, tomatoes, mayonnaise and ketchup
Mutton Burger – Mutton patty grilled and served in bun with lettuce, tomato, onion, mayonnaise and ketchup
Mutton Koobideh Persian Roll – Mutton mince koobideh kebabs wrap with yogurt sauce
Chicken Tacos – Chicken tenders tossed in house special spice served in soft tortilla with pico de gallo and cheddar cheese
Fish Soft Tacos – Fish tacos baja style wrapped in soft tortilla
Prawn Soft Tacos – Prawn tacos baja style wrapped in soft tortilla
BLT Sandwich – Chicken bacon sandwich with lettuce and tomato
Kholapuri Kheema Panini – Spicy chicken kheema cooked in Kolhapuri style, served in panini
Hot Dog – Chicken frankfurter served in hot dog bun with chopped onions, gherkins and mustard
Sides – French fries, peri peri fries, onion rings
Main Course:
Chicken Steak – Boneless chicken steak served with grilled vegetables and French fries
Chicken Stroganoff – Chicken pieces cooked in sour cream sauce with pimento peppers with rice
Veg Stroganoff – Vegetable pieces cooked in sour cream sauce served with rice
Thai Kaprow – Minced chicken with sweet basil and spicy sauce served with rice & egg
Persian Kebab Koobideh – Minced lamb patties served with grilled vegetables and buttered rice
Fish And Chips – Fried breaded fish fillets served with French fries and tartar sauce
Dessert:
Double Chocolate Cake – Rich chocolate cake layered with chocolate ganache
Chocolate Ganache Tart – A tart with a biscuit base baked with a cream of walnut, topped with chocolate ganache
Chocolate Brownies – Dark chocolate brownies with almonds
White Chocolate Cheese Cake – A cheese cake made with white chocolate
Dark Chocolate Cheese Cake – A cheese cake with dark chocolate
Fresh Fruit Cake – A cake made with fresh fruit and cream
Tiramisu – A classic Italian dessert with coffee and mascarpone cheese layered with chocolate sponge
Gulab Jamun Cheese Cake – A fusion of a gulab jamun and a cheesecake
Double Chocolate Cheese Cake – A loaded chocolate cheese cake layered between cream cheese and dark chocolate
Groupon Partner: New York Cafe
New York Cafe is established with an aim to create a typical American-styled restaurant to and bring the American food experience to your neighbourhood. American traditional food comes from a mixture of elements belonging to a large variety of countries and cultures, and we pride ourselves in providing all of them – be it Pancakes, Waffles, Muffins, Hot Dogs, Burgers etc. You can come here for breakfast, lunch, dinner or just to have a snack. At NYC every item is prepared with care, using the freshest of products. Their well trained chefs make sure that dishes are prepared using the right quality ingredients to bring the best of American flavor and taste.
Unfortunately the following deal is no longer available
but do not worry, there are more discounts for you
---