Treat your taste buds and tickle them pink with the indulgent buffet spread at the Radisson Blu.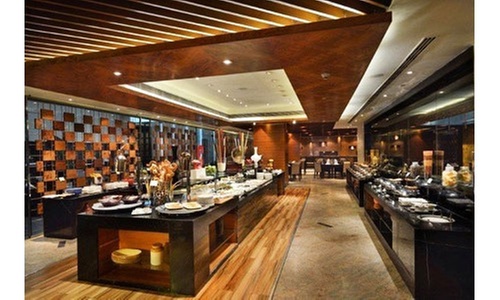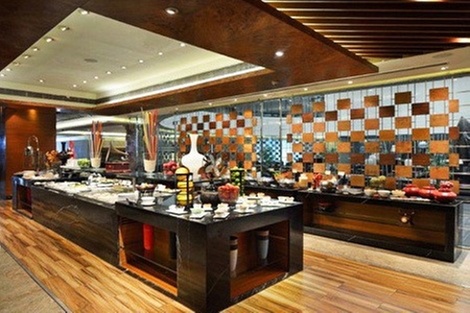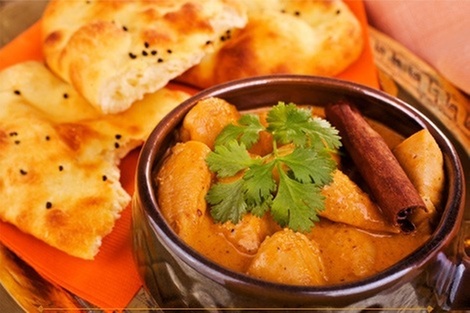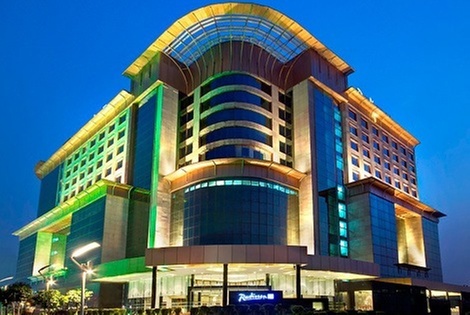 GROUPON MENU
Breakfast Buffet
Cold Buffet
6 Simple Salads with 3 Dressings
(Lettuce Roman, Green Leafy, Lolo Rosso)
Cucumber, Carrot, Red Radish, Tomato, White Radish, Assorted Sprouts
Cold Cuts
Ham
Mortedella
Milano Salami
Cut Fruits
Pineapple
Watermelon
Melon
Papaya
Cheese Selection
Choice in Milk
Probiotic Milk
Full Cream Milk
skimmed Milk
Cold Coffee
Lassi
Flavored Yoghurt
Plain Curd
Smoothie
Cereals
Corn flakes
Choco Flakes
Wheat Flakes
Muesli
Rice Crispies
4 types of Nuts & 4 types of Compoth
Juices
3 types of Fresh Juice
1 Fresh Vegetable Juice
Hot Buffet
Pan Seared Bacon
Butter Tossed Vegetables
grilled Sausage
Baked Beans
Rostie
Coconut Idli
Bread Upma
Sambhar
Paneer Paratha
Methia Muthia with Tamarind Chutney
Keerai Bonda
Lunch Buffet
Salads
Thai Lamb Salad
Chicken Hawaiian Salad
Bonton Salad
Muda Kosh Salad
Roasted Okra & Carrot with Sesame
Cajun Potato Salad
Lemon Dressing
Ranch Dressing
Balsamic Dressing
Soup
Minestrone
Gosht Badami Shorba
Mains
Dum ka Murg
Sliced Lamb Hoisin Sauce
grilled Fish with Orange Jus
Palak Paneer
Kaju Matar Makhana
Bhindi Tilori
Dal Amritsari
Mushroom Goulash
Basil & Ricotta Malphati with Butter Pinenut Sauce
Stir Fried Vegetables
Sultani Pulao
Hong Kong Noodles
Anaar Raita
Dahi Bhalla
Plain Curd
Desserts
Orange Parfait
Strawberry Slice
White Chocolate Crunch
Baked Cheese Cake
Walnut Brownie
Lapsee
Mawa Mishri
Dinner Buffet
Appetizers from Live Kitchen
Weekdays 2 Veg / 2 Non-Veg
Weekends 3 Veg / 3 Non-Veg
Salads (2 Non-Veg & 6 Veg)
Lamb Cous Cous Salad
Tandoori Chicken Tikka Salad
Rajmah Chaat
Bamabooshoot & Spinach Salad
Tandoori Broccoli Salad
pasta Salad Wwth Olive Tapenade
Roasted Babycorn and apple Salad with Lemon Ginger Dressing
Cucumber Salad with Greek Yoghurt Dressing
Laccha / Vinegar Onions
Lemon Wedges / Green Chilies
Plain Curd / Cut Fruits / Relishes / Chutneys / Pickles (8 Types)
Papads / Raita (2 types)
Soups
Coconut Rasam
Goan Lamb Soup
Live Counter
Cheese Frittata / Rice Paper Roll / Chaat
Mains
Bengali Prawn Curry
Mexican Arroz Corn Pollo
Crispy Lamb in Garlic Mint Sauce
Murg Wazid Ali Biryani
Paneer Saagwala
Tawa Vegetable Takatak
Malai Kofta
Aloo Posto
Arbi Ajawaini
Dal Panchmahal
Arhar Dal Tadka
Vegetable Paella & Ailoli Leeks & Fennel Steak with Pernod essence
Pommery spattzele with Pesto
Rendang Curry
Noori Wrap with Orange & Black Bean Sauce
Stir Fried Flat Noodles
Kashmiri Pulao
Assorted Indian Brads
Desserts
Groupon Partner: Radisson Blu Hotel, Ghaziabad
Positioned about 20 minutes from the hustle and bustle of New Delhi, the restaurants at Radisson Blu serves international and local gastronomic delights.
Avatar, the in-house restaurant at the Radisson Blu, Ghaziabad, serves Asian and Western cuisines. A variety of vegetarian and non-vegetarian items, a live kitchen with interactive chefs enhance the dining experience.
Unfortunately the following deal is no longer available
but do not worry, there are more discounts for you
---