Light and healthy has it's place but on a Indian cold rainy night, nothing hits the spot like a good meal. Get your share of this deal with this Groupon to Monsoon - The Park.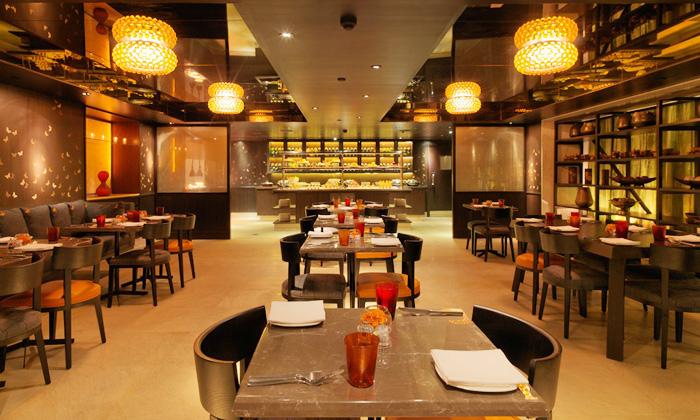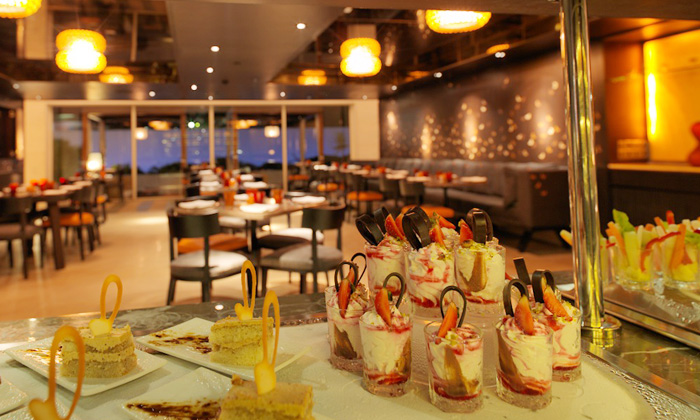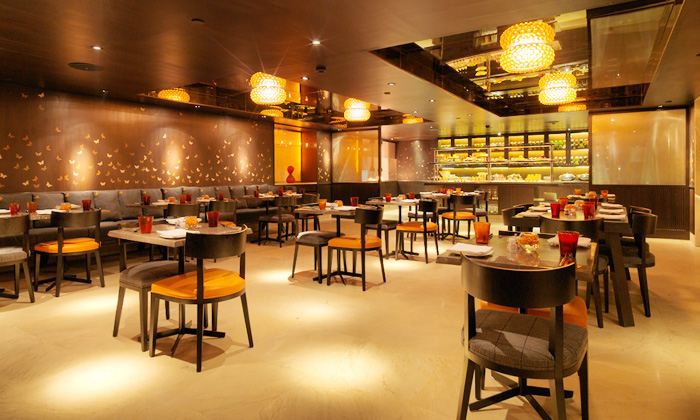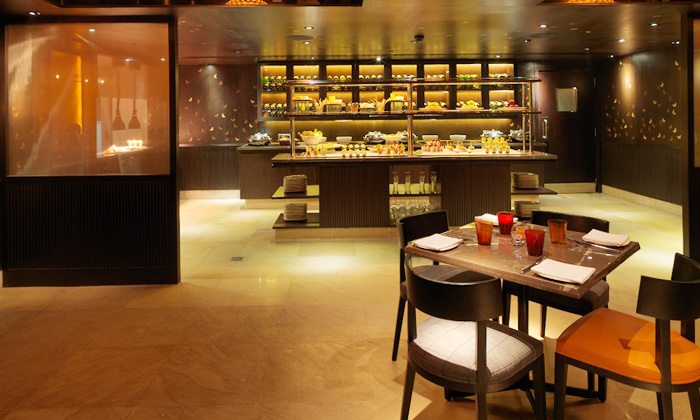 Buffet Lunch:
Soup: Veg Manchow
Salad:
grilled Veg Salad
Tabbule
Oriental Mushroom Salad
Jamaican Baby Potato Salad
Mesclun Micro Greens Colored Pepper & Bocconcini Salad
Garden Green Salad
Dahi Papdi Chat
Cottage Cheese & Olive Tarien
4 Types of Simple Salads
2 Types of Sprouts / Marinated American Corn
Anti-Pasti
Papad / Pickle / Curd Rice / Lemon / Chilies
Main Course:
Methi Murgh
Seafood Ragout
Paneer Khurchan
Bhindi Kasthori Korma
grilled Veg Medley
Semolina Gnocchi with Cheese Sauce
Singapore Noodles
Veg Pulao
Dal Miloni
Desserts:
Saffron Pear Crumble
Fresh Fruit Éclairs
Pistachio & Rose Petal Savories
Pithivier
Praline Roulade
Mix Berry Slice
Gulab Jamun
Fresh Cut Fruits
Buffet Dinner:
Soup:
Potato & Leeks
Yakhni Shorba
Starter:
Chili Garlic Fish
Murgh Malai Tikka
Mangalore Paneer
Veg Spring Roll
Salad:
grilled Mediterranean Vegetable Platter
Hummus Bil Khabeez
Corn & Bell Pepper
Salad Melanzane
Chantilly Marinated Wild Mushroom Salad
Tea Smoked Chicken & Roquette Salad
Parma Ham Wrapped Cantaloupe (Individual)
Seafood Salad
Simple Salad 4 Types
Marinated American Corn
Anti-Pasti
Papad / Pickle / Curd Rice / Lemon/ Chilies
Main Course:
Murgh Badami
Mangalore Fish Curry
Chilly Beef
Paneer Lababdar
Dondakai Masala Thoran
Spinach Ricotta Cannelloni
Kowloon Veg
Dal Makhani
Moti Pulao
Desserts:
Lemon & Kiwi Pavlova
Basil Baked Yoghurt
Dates Mousse
Butter Nutty Pudding
Fresh Fruit & Berry Tartlets
Triple Chocolate Terrine
Praline Gateaux
Strawberry Shorts
Banana Walnut Cake
Balushahi
Chukandar Halwa
Live Station: Kolkata Kathi Roll
Midnight Buffet
Salad:
Garden Green Salad
Som Tam
Jamaican Baby Potato Salad
Exotic Vegetable Crudités (Individual)
Mesclun, Micro Greens, Colored Peppers & Bocconcini Salad
Greek Country Salad
Main Course:
Mutton Biryani
Subz Dum Biryani
Paneer Lazeez
Salan
Chicken Stew
Veg Stew
Dal Pancharatna
Meen Moilee
Steamed Rice
Raita
Desserts:
Pineapple Gateaux
Rich Chocolate Torte
Wild Berry Baked Yoghurt
Nutty Profit Rolls
Warm Gajar Halwa
Live Station:
Appam with Stew
Shawarma Counter
Sunday Brunch
Salads
Fresh Figs & Goat Cheese Salad with Walnuts
Sweet & Sour Onions
Haricot Verts, Ripe Tomato & Black Olives
Crispy Bacon & Avocado with Lettuce
Salad Nicoise
Carrot, Celery & Bell Peppers In French Flutes
Tomato, Prune & Cheese
Potato with Celery & Egg
Orange, Dates, & Poached Chicken
apple, Rocket Leaves, & Grapes
Roasted Beetroot
Cucumber Shot
Aloo Papdi Chat
Cheese Platter
Meat Platter
Assorted Lettuce
Dressings: French Dressing Vinaigrette, Orange Vinaigrette, Cocktail Dressing
Pickles: Cocktail Onions, Capers, Olives, Jalapeños
Active Cooking (Live): Barbequed Fish, Spicy Prawn Patties, Gulabi Murgh
Assorted Crostini
Caramelized Pineapple Rings
Pesto Paneer
Sandwich Counter
Egg Counter
Main Course:
Roasted Sweet Chili Pork
Pan Fried Basa Fish with Citrus Fruit Sauce
Mixed Vegetable in Thai Green Curry
Ratatouille Crepe Parcels with Beurre Blanc
Malabar Chicken Curry
Aloo Gosh Tariwala
Mushroom, Makai Aur Broccoli Do Pyaza
Paneer Pin Wheel Lababdar
Cauliflower Talimpu
Aloo Posto
Dal Makhani
Saffron Pulao
Steamed Rice
Dessert:
Glazed Prune Tart
Mango Cranberry Cheese Cake
Mini Grape & Kiwi Pavlova
Almond Torte
Choco Cookie Mousse
Blue Berry Moist Cream
Lemon Crème Gateaux
Rasagulla
Chocolate Gulab Jamun
Fresh Cut Fruit
Live Pain Perdu:
Toppings – Wild Berries, Orange, Banana Coconut, Fig Ricotta & Chocolate Truffle
Sauces – Strawberry, Passion Fruit, Pomegranate, Chocolate, Mango & Kiwi
Groupon Partner: Monsoon - The Park
This 24-hour restaurant located next to the lobby, provides a welcoming experience to the guests. Monsoon offers a creative Pan-Indian & International menu with emphasis on subtle flavors and authentic ingredients making it an ideal destination in Bangalore for a meal anytime around the clock.
Unfortunately the following deal is no longer available
but do not worry, there are more discounts for you
---